Dyneema™ Fiber Rope
Novabraid high strength low stretch ropes are available made from two grades of Dyneema™ fiber, SK 60 and SK 75. Our Syntec rope is double braided for high performance during cruising or racing. The blended yarns are UV stabilized and noteworthy for their low stretch factor and 16 carrier core. The Dyneema™ yarns are 15 times stronger than steel, based on a UHMWPE (Ultra High Molecular Weight Polyethylene). The gel-spun material has chemical resistance, flexibility and strength qualities second to none, and is ideal for many applications, such as boating and fishing.
Products for this Application: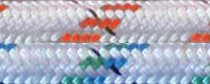 Syntec
- Premium Marine Lines for Superior Performance Syntec are our high performance double braided marine lines designed for club racers and performance oriented cruisers.