High Dielectric Rope
Dielectric performance refers to a measure of electrical conductivity. This is a requirement of the power utility industry where work is being performed around live transmission lines. Novabraid's dielectric rope is designed for these applications which meet the specification ASTM F1701-05 include Novablue for winch and auger lines, Polytec for pulling lines, and Oletec for hand lines.
Products for this Application: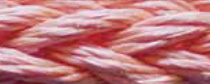 Oletec-12
- 12 Strand Hollow Braid Rope Oletec-12 is a hollow braided 12 strand rope using 100% polyolefin high tenacity co-polymer fiber.