Golf Course Boundary Line
Novatec Braids Ltd. manufactures specialty ropes for golf courses including high visibility boundary line to warn snow machines off of the greens, border ropes for golf range netting, and a proprietary Engage Agro Fairway Snake system for removing dew from fairways. Novatec can also make custom color ropes for golf galleries and golf spectator pathways.
Products for this Application:

Purse Seine Leadline
- Purse seine is constructed with multiple strands of crimped lead alloy within a braided polyester sleeve.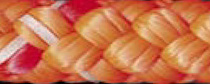 Boundary Lines
- Superior Visibility and Durability Our boundary lines features a high visibility braided multifilament polypropylene cover over a parallel strand core.